Essex lorry deaths latest and No 10 denies Brexit split
jessie tan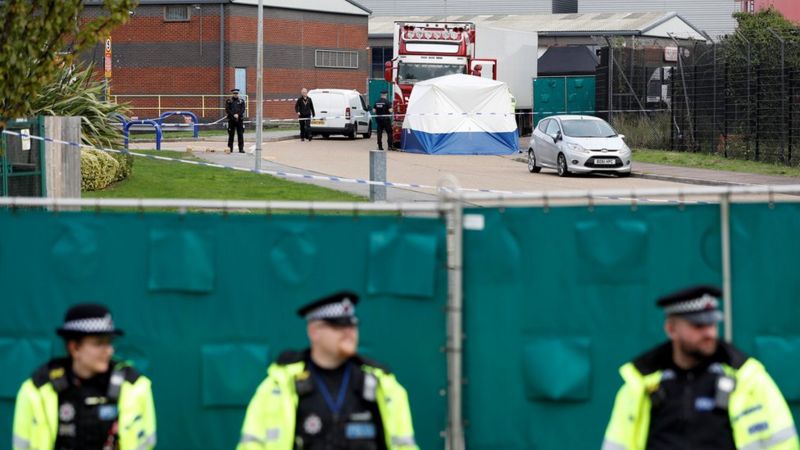 Police question driver over Essex lorry deaths
Investigations continue over the grim discovery of 39 bodies in a refrigerated container near an Essex port. As police question a lorry driver – named locally as Mo Robinson – on suspicion of murder, the National Crime Agency (NCA) says its officers are trying to identify any "organised crime groups who may have played a part". The container arrived in Purfleet on the River Thames from Zeebrugge, Belgium, where prosecutors are trying to work out how long the lorry was in the country. "It could be hours or days, we just don't know," they say. Here's what we do know so far.
The lorry cab used to pick up the trailer had been driven from Northern Ireland, where police have raided two houses associated with the arrested man – one in Markethill, County Armagh, and another in nearby Laurelvale. The UN estimates 491 people have died or gone missing crossing Europe since early 2014, including five found dead in – or on – lorries in the UK. And the NCA says Channel crossings are increasingly co-ordinated by criminal gangs. One man who fled war-torn Syria for the UK tells the BBC what it's like to be smuggled in a lorry.
No 10 denies government division over Brexit strategy
Battle to get the prime minister's Brexit deal through Parliament, or abandon efforts in favour of a general election? No 10 is denying Boris Johnson's cabinet is split over what to do next, after MPs narrowly approved his deal – but rejected a fast-track timetable designed to get the UK out of the EU by 31 October. Our assistant political editor Norman Smith says the fact Mr Johnson met Labour leader Jeremy Corbyn on Wednesday – without agreeing anything – suggests No 10 may not be wedded to the idea of a winter general election.
Source: BBC