Essex lorry deaths: What we know
jessie tan
The bodies of 39 people were found in a lorry container in Essex in eastern England on 23 October.
The driver has been charged with their manslaughter. Three other people who were arrested on suspicion of manslaughter and conspiracy to traffic people have been released on bail.
Essex Police said they were working "to piece together the circumstances of this horrific event" which they described at the time as the largest murder investigation in the force's history.
Here's what we know so far about the discovery.
Who were the victims?
All eight women and 31 men are thought to have been adults except one "young adult" woman who, police previously said may have been a teenager.
Police initially believed the victims to be Chinese nationals but their efforts to identify them are now focusing on the Vietnamese community.
Agony builds for Vietnamese families
Pham Thi Tra My, 26, sent distressed messages to family on the evening of 22 October. "I am dying, I can't breathe," the text read. She has not been heard from since.
Her family say they paid £30,000 to people smugglers. Her last known location was Belgium.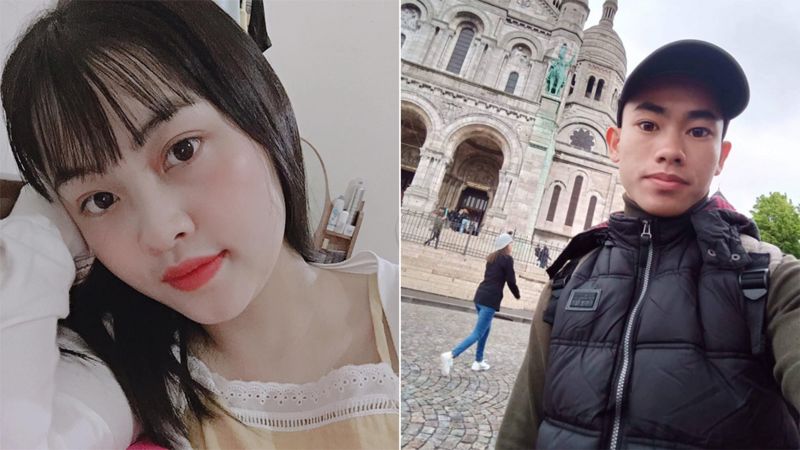 Others feared to be among the 39 victims are Nguyen Dinh Luong, 20, and Nguyen Dinh Tu.
Family members of Le Van Ha, 30, are also worried after he left his young son and pregnant wife behind to travel to the UK.
His father Le Minh Tuan says the family have "nothing left" after mortgaging their land to fund the £20,000 journey.
In Vietnam, relatives are worried for 19-year-old Bui Thi Nhung. The teenager is thought to be the youngest of those who died.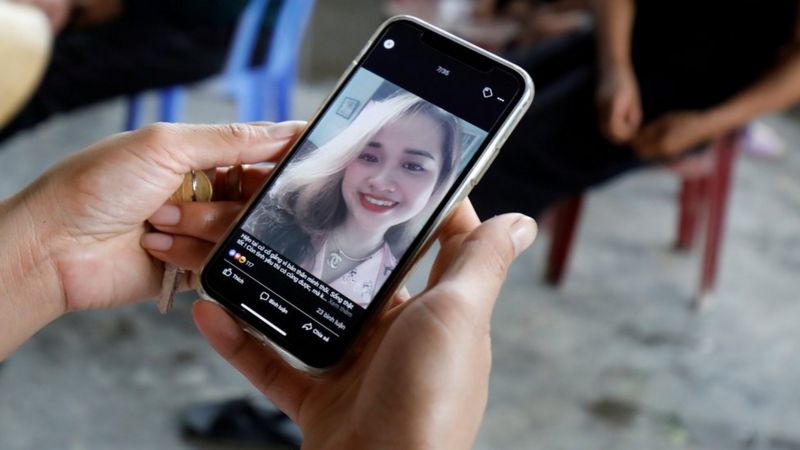 A friend of Tran Thi Tho, 21, fears she may also be among the victims. The friend, who lives in Glasgow, did not want to be identified but told the BBC he had been due to meet up with her when she arrived in the UK.
VietHome, an organisation that represents the Vietnamese community in the UK said it had passed on the pictures of almost 20 people who have been reported missing to detectives.
The Vietnamese embassy in London has set up a contact line for people to get in touch.
The Vietnamese Embassy in London has set up a channel for direct liaison and collaboration with Essex police, to work with local agencies in identifying the victims and carrying out citizen protection measures if needed.@UKinVietnam pic.twitter.com/EPdCzCaNVD

— MoFAVietNam Spokesperson (@PressDept_MoFA) October 28, 2019

How did the tragedy come to light?
The police said they had received the first reports about bodies found in a lorry at the Waterglade Industrial Park in Grays just before 01:40 local time (00:40 GMT) on 23 October. The town is about 15km (nine miles) east of London.
Ambulance staff found the bodies. It is not yet known who alerted them.
The bodies have all been moved to Broomfield Hospital in Chelmsford where they are being examined to establish cause of death.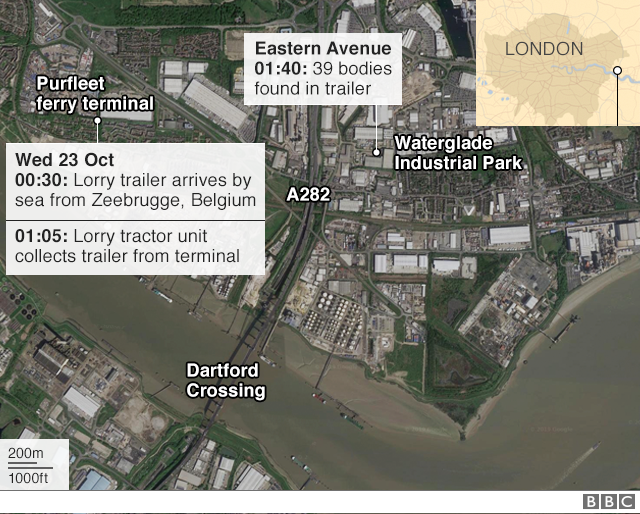 Work is also on going to identify them in what police called the "largest mass fatality victim identification process in the history of Essex Police".
A force spokesman said officers were using the Interpol Disaster Victim Identification Standards to find out who the people were, which includes checking fingerprints and DNA.
"Both Essex Police and [Essex coroner Caroline Beasley-Murray] are committed to working as quickly as possible to identify people and repatriate them to their families," he said.
Police are also collecting evidence from the victims with more than 500 items collected so far, including mobile phones which need to be examined.
"As in any instance where a mass fatality has unfolded, we cannot predict how long this process will take," the spokesman said.
Who has been arrested?
Lorry driver Maurice Robinson has been charged with the manslaughter of the 39 victims as well as people trafficking, immigration and money laundering offences.
The 25-year-old, of Laurel Drive in Craigavon, Northern Ireland, appeared via video-link before Chelmsford Magistrates' Court on 28 October where he was remanded in custody.
He is next due to appear at the Old Bailey on 25 November.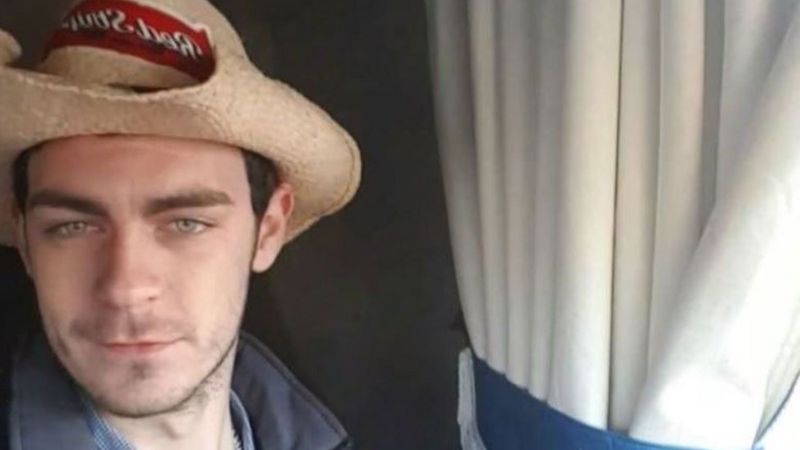 A 46-year-old man from Northern Ireland, who was arrested at Stansted Airport on Friday, and Joanna and Thomas Maher, both 38, from Warrington, Cheshire, have been bailed after being held on suspicion of manslaughter and conspiracy to traffic people.
Another driver, who brought the container to Zeebrugge before it crossed the Channel, was arrested at the port of Dublin on Saturday, according to the Belgian prosecutor's office.
Essex Police said the man in his 20s had been held over an unconnected matter, but was "a person of interest" in their investigation.
What about the lorry and the trailer?
GPS data shows the refrigerated container trailer crossed back and forth between the UK and Europe in the days before it was found.
It was leased from the company Global Trailer Rentals on 15 October. The company said it was "entirely unaware that the trailer was to be used in the manner in which it appears to have been".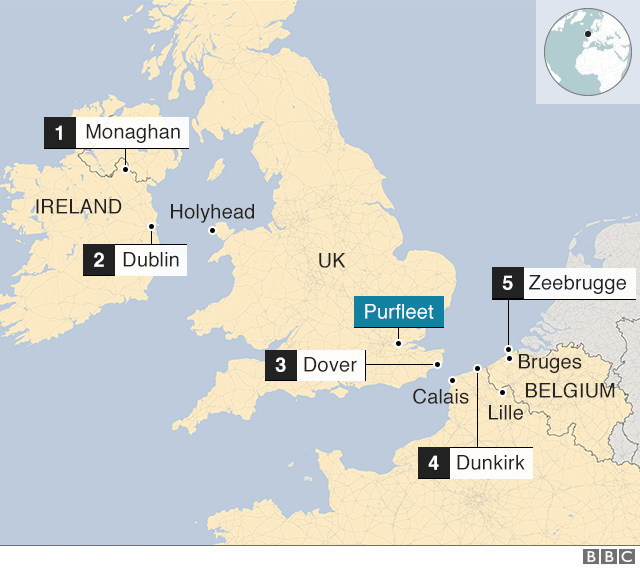 Sources say the GPS data shows it left Monaghan in the Republic of Ireland on 15 October before crossing over to Northern Ireland and then returning south to Dublin
From Dublin, it crossed over to Holyhead in Wales overnight on 16 October
That evening, it travelled to continental Europe from Dover to Calais in France
Between 17 and 22 October, it moved between various cities in Belgium and France, including Dunkirk, Bruges and Lille
On 22 October, it made its final crossing from Zeebrugge to Purfleet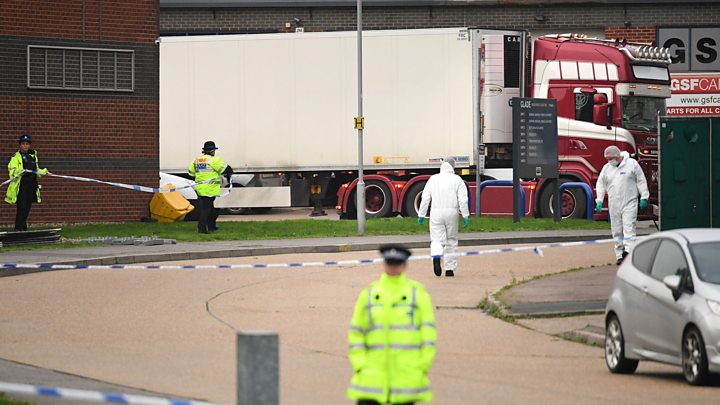 Essex Police said the tractor unit (the front part of the lorry) had entered the UK via Holyhead – an Irish Sea port in Wales – on Sunday 20 October, having travelled over from Dublin.
Police believe the tractor unit collected the trailer in Purfleet on the River Thames and left the port shortly after 01:05 on Wednesday 23. Police were called to the industrial park where the bodies were discovered about half an hour later.
Temperatures in refrigerated units can be as low as -25C (-13F). The lorry now is at a secure site in Essex.
Early reports had suggested the lorry may have arrived from Bulgaria but its government has since clarified that while the tractor unit was registered there in 2017 it had not entered the country since.
How many migrants have died in transit in the UK?
The number of migrants who die in transit has been recorded by the UN since 2014.
Since then, five bodies of suspected migrants have been found in lorries or containers in the UK:
2014: An Afghan migrant was found dead at Tilbury Docks, Essex. He was in a shipping container along with 34 other Afghans who survived
2015: Two migrants were found dead in a wooden crate in a warehouse in Branston, Staffordshire. The crate had been sent from Italy
2016: An 18-year-old migrant was crushed while clinging to the underside of a lorry in Banbury, Oxfordshire
2016: A body was found in Kent in the back of a lorry which had travelled from France
Data was not collected in the same way before the European migrant crisis began in 2014, but such deaths are not new.
Source: BBC