Splash Out Langkawi: 12 Thrill Rides To Enjoy At This Water Park
jessie tan
After months of anticipation, the Isle of Langkawi launched the soft opening of what is to be its first themed water park, yet another attraction for the ultimate year-round tourist destination. Wholesome fun is in store for families and friends at Splash Out Langkawi, making the water park the perfect choice for a day's retreat together with loved ones.
Spread across 12 acres, Splash Out opened its doors on 15th December 2019. Designed with a classic coastal architecture at the forefront of Kuah Town, which is approximately 16.4km from Langkawi International Airport, Splash Out is set to be a new water craze in Langkawi, a tourism attraction that will be experienced by hundreds of thousands of families within Malaysia and tourists alike.
Staying true to the relaxed and scenic island of Langkawi, Splash Out Langkawi is designed as a magical and fantastical kingdom, inspired by seafarers exploring the seven seas. Boasts an immersive 12 thrill seeker slides and rides befitting a seafarer's adventure: Ragin'Racers, Splash-Tacular, Shipwreck Falls, Splash Twister, Poseidon's Revenge, Perfect Storm, Big Splash Kingdom, Wild Water, Rainbow Rider, Splash-Python, Sprinkle Island and River of Life.
Slides not for the faint hearted! Experience the adrenalin rush on the Perfect Storm, a 40-degree parabolic funnel-shaped ride on a raft with a kaleidoscope twisting effect before splashing down to ground level or head to Ragin' Racers and slide down at top speeds of 50km/per hour.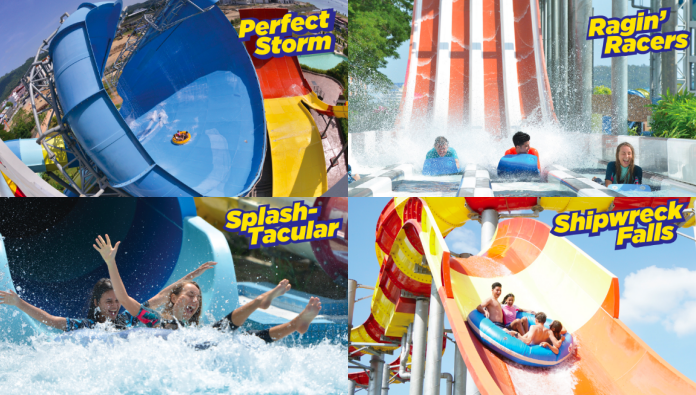 The Splash-Tacular provides the adrenalin junkie with an unforgettable slide experience accelerated by hydro jets and plummeting into a black hole of visual effects. Add on to your thrill with the Shipwreck Falls, where you will experience a steep drop before propelling vertically uphill and thereafter a reverse and ending into a splash pool. Get ready and catch the intergalactic Poseidon's Revenge, as you slide at top speeds accelerated by an uphill hydro jet that ultimately plummet into a black hole of visual effects.
After a thrilling experience, wade in the 6ft Wild Water wave pool or head over to the River of Life, a safer and gentle ride for the entire family. Enjoy a gentle tumble and splash along the 330 meters lazy stretch of "river" in inflatable floats or just get drenched over 250 litres of water in Big Splash Kingdom. Kids will enjoy the interactive water playground Sprinkle Island which offers the little ones a safe and fun splash beneath water sprinklers.
In addition to the many spills and thrills, the water park also features 3 Food and Beverage dining outlets, East India Coffee & Tea Company and the Bass Harbour Outpost & Supply Retail Shop. Additional carts and kiosks featuring snacks, treats and drinks will be splashed throughout the water park.
Splash Out Langkawi is a family friendly water park with facilities and services such as strollers, lockers, first-aid room, changing & nursing rooms and prayer rooms.
For hotel accommodation, just head over to the 275 rooms Bella Vista Waterfront Langkawi, located adjacent to Splash Out. Grab the Splashcation Package at RM649 for a 2 Days/1 Night stay in our Family Room, inclusive of buffet breakfast and admission ticket for 2 adults and 2 children. Splash Out Langkawi also intends to play host to corporate events, company team building, school field trips.
The details to Splash Out Langkawi are as follows:
Address: 79, Persiaran Mutiara 2, Pusat Perdagangan Kelana Mas, 07000 Langkawi, Kedah
Tel: +604 – 9611 520
Email: [email protected]
Opening hours: Monday – Thursday from 10am to 6pm/ Weekends, Public & School holidays from 10am to 7pm
Admission tickets: RM75 (Adult), RM55 (Child) and RM40 (Senior Citizens)
For more information, visit their official website here.