48 Countries & Territories Banned From Langkawi Tourism Bubble Over Omicron Fears
jessie tan
The Omicron variant has spread to all corners of the globe at a rapid rate with seemingly no end in sight.
Yesterday, our neighbours reported their first cases. Meanwhile, just today, Malaysia reported its first cases of the "variant of concern".
This has prompted the Health Ministry to restrict and discourage any outbound overseas travel for Malaysians as well as inbound for international tourists wishing to visit Malaysia.
The Health Ministry announced yesterday (2 December) that tourists from 48 countries and territories, or those who have been to those localities within 14 days, will be banned from participating in the Langkawi tourism bubble.
According to a statement, the ministry is imposing the ban due to concern over the new Covid-19 variant Omicron.
"Following the discovery of the Omicron variant (B.1.1.529), MOH has started to monitor and conduct risk assessment exercise to identify countries which are at high risk of having outbreak of the new variant of concern."
Of the 48 list of countries, 26 were on the list because they reported the new variant, while the other 22 have been identified as high risk to have an Omicron outbreak.
The countries and territories that were listed as having reported Omicron cases are:
Australia,
Austria,
Belgium,
Brazil,
Canada,
Czech Republic,
Denmark,
France/Reunion Island,
Germany,
Ghana,
Hong Kong,
Ireland,
Israel,
Italy,
Japan,
Netherlands,
Nigeria,
Norway,
Portugal,
Saudi Arabia,
South Korea,
Spain,
Sweden,
UAE,
United Kingdom, and
USA (California)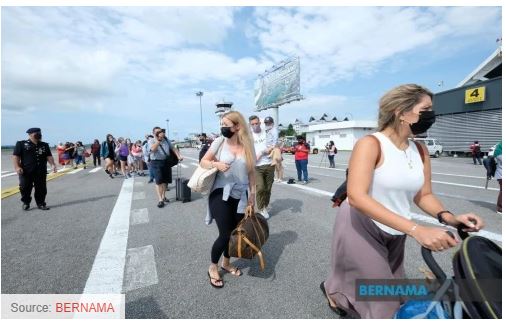 The countries that are considered high risk include:
Angola,
Bangladesh,
Croatia,
Eswatini,
French Guiana,
Georgia,
Guernsey,
Jordan,
Lesotho,
Libya,
Malawi,
Mozambique,
Namibia,
North Macedonia,
Poland,
Romania,
Russian Federation,
Slovakia,
The Philippines,
Ukraine,
Zambia, and
Zimbabwe
"Travellers from these countries, or those who have history of travel to the countries within 14 days, are not allowed to participate in the Langkawi Tourism Bubble," said Health Ministry director-general Tan Sri Dr Noor Hisham Abdullah in the statement.
"The risk assessment on countries take three things into account which are local transmission, number of cases and vaccination coverage in the particular country."
However, Noor Hisham added that the ban does not apply to Langkawi residents (Malaysian citizens and holders of Malaysia long-term visit pass) who are returning from the listed countries or have been there within 14 days.
But, they would only be allowed to enter Malaysia through the Kuala Lumpur International Airport and are required to undergo a 14-day mandatory quarantine at a government facility before proceeding to Langkawi.
Check out the full statement here.